Your Official Communication Channel - Sign up Here
AFA Analysis of the Sonoma County Junior College District's Finances, Part 1
The primary reason AFA and the District are at impasse is the Rank 10 formula, which has determined SRJC faculty salaries for the last four decades. Over the years and at the District's request, AFA has agreed to reasonable changes in that methodology. Those changes have resulted in a current ranking of approximately 17th in the State for SRJC contract faculty salaries. AFA has also agreed to suspend Rank 10 in times of crisis. But the District now seeks to end Rank 10 permanently, which led AFA to analyze the District's data to see whether Rank 10 is creating a crisis now. This is Part 1 of AFA's analysis.

From the SRJC Faculty to the Board of Trustees
Approximately 100 faculty members attended the December 12 Board of Trustees meeting. Several made public comments on faculty concerns about the quality of the institution, our programs, faculty roles in shared governance, salary, and privacy violations. Your colleagues' comments--those that were actually delivered, as well as those that were prepared but for which there was insufficient time--are posted here.
AFA encourages the faculty to attend all Board meetings, to speak out on matters of concern to the faculty, and to share those comments with the College community via email and posting on our web site.
Board meetings are held on the second Tuesday of each month. Spring 2018 meeting dates:

AFA Press Release--Feb. 13, 2018
SANTA ROSA FACULTY TAKE THEIR PAY CUT FIGHT OUT OF THE FIRE AND INTO THE BOARD ROOM
Santa Rosa, California, Tuesday, February 13, 2018 -- Santa Rosa Junior College (SRJC) faculty are fighting a proposed pay cut while top college executives enjoy recent double-digit pay raises.
It's a familiar story: A college faces budget woes, but instead of going after the ever-growing and expensive layer of administration, the salaries of the rank-and-file faculty members are on the chopping block.

Informational Flyers
The Next 100 Years Starts with Us!
We Want a Fair Contract:
We are working for a fair contract that preserves sustainable pay and faculty professionalism. The District's latest proposal attempts to cut our pay and reduce our autonomy, which will adversely affect our students and the quality of education at SRJC.
RANK 10: A proven formula for student success
Rank 10, which was established over 30 years ago, was originally proposed by the Board of Trustees as a way of recognizing the hard work and excellence of the SRJC faculty.

Administrators: 9% RAISE
Faculty: 3% CUT
The District's upper management recommended a management salary study, which resulted in an AVERAGE raise of 9%, with the highest-level administrators receiving double-digit percentage increases in January 2017.

The Faculty Wants a Fair Contract
This year, SRJC celebrates its 100th Anniversary, and the faculty negotiations team has been hard at work to ensure that the Legacy of Excellence at SRJC continues for the next 100 years.

Letter from the Social Sciences Department
to the 100th Anniversary Leadership Group
Dear 100th Anniversary Leadership Group:
First off, I want to apologize for this long email, but I wanted to be sure that I addressed my concerns and the concerns of my department fully and clearly.
Last year, The Social Sciences Department applied for a grant to support events celebrating the centennial of SRJC. Our plan was to have an event in the Fall of 2017, and then one in both the Spring and Fall of 2018. Last semester, fellow historians Sal Diaz, Laura Larque and I put on an event at PDA Day focusing on the founding of SRJC. We had a packed house, and the feedback was overwhelmingly positive. Learning about the early years of the College at SRHS, the efforts of Floyd Bailey and the Chamber of Commerce in establishing an independent college and in securing the property for our beautiful campus, and especially the work of early students, faculty, and alumni to resist those who wanted to close down the College made me even more excited to learn more about our College's history and to organize subsequent events.

Picketing Resources for Faculty Members
Legal right to wear buttons, show signs on campus, and distribute flyers.
AFA is providing the following information based on the advice of its legal counsel:
Non-disruptive picketing and distributing informational flyers in public places is a protected conduct. "Non-disruptive" means that it does not interfere with class sessions or other College business. Do not block entrances and exits to buildings.
Wearing union buttons or pins is also a protected employee right. There is a possibility that some people could interpret the wearing of buttons and conducting conversations/discussions during class time, office hours, or other scheduled student contact duties as a violation of Ed Code 7055, so AFA advises against this practice. Outside of scheduled student contact times, faculty members may wear buttons and have conversations with students and colleagues.
In addition to non-disruptive picketing, faculty members may display signs on office doors/windows, on bulletin boards, and in car windows.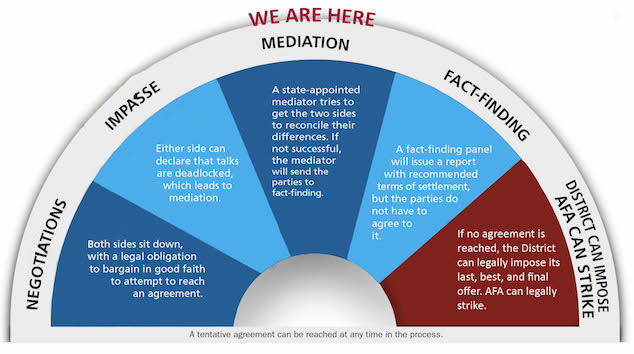 Q&A Regarding Negotiations Impasse
Q. What is the situation in negotiations between the Junior College District and AFA?
A. We are at impasse, which is a status determined by the California Public Employment Relations Board, or PERB. It means that PERB has determined that continuing normal negotiations would be futile.
Q. How did we get here?
A. The District presented AFA with a take-it-or-leave-it package in November. AFA was willing to negotiate items in the package on an individual basis but not to accept the entire package, so the District asked AFA to join it in declaring impasse. AFA declined, so the District unilaterally submitted to PERB a request for determination of impasse. PERB concurred.